What Our Buyers Are Looking For
We don't always have what buyers are looking for. In these cases, after speaking with them, we log their criteria in our database which is always searching the new vessels we bring online.

If you have a vessel you would like to sell, please take a moment to enter a few brief details on this page and see if we have an active buyer looking for your vessel right now.

Look at Our Current Interests
Most Popular Posts
View All
Actual Feedback
Richard H. From
Tribune, KS

5/21/2013 10:25 PM

This far he has been wonderful. I have been dealing with him for a few days now and he has been swift on his responses to my questions. I have not finalized a purchase yet, but if I do through your...


Yolanda P. From
West Palm Beach, FL



5/21/2013 2:42 PM

Dear Captain Mark,Paul has been outstanding in his follow-up. I sincerely hope to do business with him in the future. After 30 years in this business it is great to find brokers cooperating with ea...


Mike B. From
East Hampton, CT



5/21/2013 1:29 PM

Sunny, I am casually looking and I have not responded to any of his emails. He has not not been annoyingly aggressive nor absent. He just sent a couple emails letting me know he was there to help.W...


Dan D.



5/20/2013 7:23 PM

Captain Mark,Thanks for asking. Christopher was quick to reply and sent a few ideas. I am being very particular with what I am looking for and am quite confident that CHristopher will come through ...


Jeffrey Wayne L. From
Pensacola, FL



5/20/2013 5:22 PM

I met with Dave today and he gathered all the necessary information that he needed. He was polite and professional.Thank you for the help,
View All Recent Feedback
Actually Satisfied

Good Afternoon! My wife and I recently purchased a 2000 26 ft. Montery 262.

Our original contact was with Brad Butcher who was extremely professional, highly accessible and a great liaison with the buyer. Our sales experience was nothing short of fantastic!

Monica Ischinger handled our closing and could not have been more professional and helpful. Monica was extremely pleasant to work with and went to great lengths to make the close as uneventful and timely as possible, to include intervening with a rude and uncooperative marina during the pick-up.

My wife and I are particularly grateful to Rachel Ling Dyals for her monumental effort in resolving a very difficult situation.

Our title paperwork was sent via FedEx to our office, acknowledged as delivered, but was nowhere to be found.

FedEx was not helpful and the challenge was to replace the title.

This is where Rachel demonstrated her superstar abilities!

To compress the story, Rachel had to deal with every possible uncooperative scenario imaginable to include the former owner, the State of New York, the original loan bank, etc. to replace the title.

Only through her creativity and resourcefulness did she reach out to the Director of the Maryland DNR Licensing Office to request a waiver (see below) who was kind enough to grant one, while also contacting our bank to update them on the situation.

Bottom line, Rachel is one in a million and saved the day for us!

Thanks again to your team for making our experience with POP Yachts International an absolute delight.

We look forward to referring your company to all who will listen!

Jeff and Lorraine W. (Lake Shore, Maryland)
Bank-Owned & Short Sales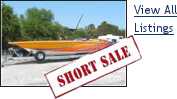 About POP Yachts
There's one thing we know about today's market: Shoppers demand results and will only pay when they get those results. The Internet has helped to bring sellers and results-driven buyers together like no other time in history.
At POP Yachts International, we also know that the combination of global Internet marketing, Internet lead generation and international relationships built through electronic media are the keys to sales success. Add to that the knowledge that today's brokers are only Paid On Performance, and you begin to see the inspiration behind our one-of-a-kind yacht brokerage.
Sales Success through Smart Technology
POP Yachts has a plan for marketing your boat through our data partners, using the most up-to-date technology. We promote your boat in North America, Canada, Europe and across the globe. If there is a buyer out there, we will find them!
POP Yachts has the most sophisticated web-based tools available for lead management, and a unique blueprint for nurturing those leads all the way to the closing table. Because we are so confident in our online lead generation and management, POP Yachts does not take upfront fees from our clients. We very simply only get Paid On Performance.
Total Transparency You Can Trust
At POP Yachts International we believe in giving a true representation of every boat we work with. We show you up to 100 photographs of every vessel we represent and answer all of your questions quickly and honestly.
We know how to deal with all the little things that can go wrong, and we won't hide these. We alert you to any issues and tell you precisely how we plan to make everything right.