What Our Buyers Are Looking For
We don't always have what buyers are looking for. In these cases, after speaking with them, we log their criteria in our database which is always searching the new vessels we bring online.

If you have a vessel you would like to sell, please take a moment to enter a few brief details on this page and see if we have an active buyer looking for your vessel right now.

Look at Our Current Interests
Most Popular Posts
View All
Actual Feedback
Alex L. From
Fort Lauderdale, FL

Today at 9:50 AM

I am still contemplating on whether to find a trade-in for my boat or sell it outright and then purchase something else. Mariono is doing a great job, the only thing stopping me from listing is me....


Tony T. From
Brunswick, GA



Today at 9:10 AM

yes he is, but my Marina does not have room for the boat at this time, I'm checking on bottom paint and wet storage


Bob H. From
Hebron, MD



Today at 9:07 AM

If I have a boat to sell in the future and want a broker I would consider POP.


Greg B.



Today at 8:39 AM

Andrew always gives me a quick response to my questions. He also researches pricing before making changes to my boat selling price.


Luke B.



Today at 8:28 AM

Nicole, Bob has reached out to me and has given me some good options on vessels. I appreciate your follow up and have nothing but positive remarks for Bob and your company. My wife and kids are loo...
View All Recent Feedback
Actually Satisfied

POP Yachts and Staff,

I would like to thank you for working with me on my recent purchase of my Donzi 35 zf. I have to admit, in the beginning I did not see the benefit of hiring a broker and thought that I would get a better deal working alone. I was definitely mistaken and quickly came to realize that your services were invaluable.

Your staff worked very hard to satisfy my requirements and to get my deal done, working with the seller and other parties involved to allow us to close very quickly. I could not have gotten all of this done on my own and I would have definitely overlooked some key aspect.

I would also like to thank Kevin and Ashley personally for their professionalism and putting up with my numerous requests for information on an almost hourly basis!

I will highly recommend your brokerage to anyone purchasing a boat and will return to use your services again in the future.

Steve F. (Philadelphia, PA)
Bank-Owned & Short Sales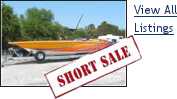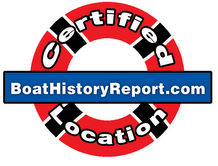 The POP Yachts and BoatHistoryReport.com® partnership brings you full history reports on all of our published listings – for free.
Get a Report on Every Vessel
At POP Yachts, we believe it is the customer's right to know everything about the vessel before buying it. That is why all listings advertised for sale on POPYachts.com include a BoatHistoryReport.com® History Report attached and listed on the advertisement. We also include these reports by default when sending an offer to any prospective buyer.
Never before has a boat dealership embarked on such a massive multi-faceted partnership with a reporting company. You would be hard-pressed to find another dealership anywhere in the U.S. willing to show you a history on EVERY pre-owned vessel in its inventory.
What is BoatHistoryReport.com®?
Similar to CarFax® in the automotive industry, BoatHistoryReport.com® lists any accidents, salvaging, hurricane damage and more. Unlike the automotive industry, we don't yet have all repair shops, insurance companies and state agencies reporting. But we have many, and it's well worth the peace of mind to check it. There are no guarantees, but this is as close as we can come to one in the boating industry.
When you sign up for a free POP Yachts Boarding Pass, you'll automatically be able to open the report from BoatHistoryReport.com® directly from our listing.
By creating this unprecedented partnership with BoatHistoryReport.com® – that you won't find anywhere else – POP Yachts International proves again why it's like no other broker in the world.