What Our Buyers Are Looking For
We don't always have what buyers are looking for. In these cases, after speaking with them, we log their criteria in our database which is always searching the new vessels we bring online.

If you have a vessel you would like to sell, please take a moment to enter a few brief details on this page and see if we have an active buyer looking for your vessel right now.

Look at Our Current Interests
Most Popular Posts
View All
Actual Feedback
Richard P. From
Saginaw, MI

Yesterday at 1:36 PM

Mark, thanks for your response and Mike did get with me very quickly. I did buy a 2000 Campion 672 Explorer in Northern Michigan and got a great deal on it. But I do appreciate you web site and h...


Al V. From
Delray Beach, FL



Yesterday at 12:27 PM

Capt. Mark, your sales exec, Jim Grady, has been doing a good and professional job to this point in the transaction. I will be sure to contact directly if there is a need.


Joey R. From
Houston, TX



Yesterday at 11:55 AM

Phil has been great. Answered all my questions promptly and thoroughly.


Tanja K. From
Cornville, AZ



Yesterday at 10:07 AM

Good morning Brad, I am pleasantly surprised with the fact you and James continue to "touch base." As a result, I hope that I am able to solicit your services when the right boat comes at the right...


Mary L. From
Denmark, SC



Yesterday at 8:42 AM

Yes he has thank you. I am currently just browsing trying to decide exactly what type craft I am looking for. I explained to Bernie that I am looking for something that could be a liveaboard for wh...
View All Recent Feedback
Actually Satisfied

I initially started researching importing a boat from the US for 6 months prior to contacting Pop Yachts. Although this was beneficial, it could not replace the professional research and advice provided to me from Popyachts. Kevin and Scott know the market very well and what is available. The 2601 Striper was presented to me exactly as described and I would not have this type of boat sitting on my pontoon now if it wasn't for these guys.

From the time I first made contact through to the contract offer and acceptance, preparation for shipment, survey and finally shipping, they were a pleasure to deal with. Kevin and Scott always answered my emails promptly and were always professional and helpful but never pushy. Living in Australia, I bought this boat sight unseen, which I would never have considered had it not been for the comprehensive service offered by Pop Yachts.

I am really enjoying the experience of running a boat such as this however, I would have found it difficult to financially justify the same had I bought it locally.

I definitely intend to be a repeat customer, thanks guys.

Bryce H. (Woodridge, Australia)
Bank-Owned & Short Sales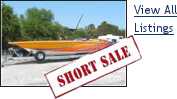 search
Your query only returned 2 listings. Get more results by entering less restrictive search criteria.