What Our Buyers Are Looking For
We don't always have what buyers are looking for. In these cases, after speaking with them, we log their criteria in our database which is always searching the new vessels we bring online.

If you have a vessel you would like to sell, please take a moment to enter a few brief details on this page and see if we have an active buyer looking for your vessel right now.

Look at Our Current Interests
Most Popular Posts
View All
Actual Feedback
Dave M. From
Palm Bay, FL

Today at 12:31 PM

Mark, Yes. Marino is taking VERY good care of me. He knows what I am looking for and is consistent in sending me only those options within my stated guidelines. As I told Marino, I will be purchasi...


Bruce Z. From
Netherlands Antilles



Today at 11:12 AM

So far the experience has been great. No complaints. I look forward to finding the perfect boat through Pop Yachts.


Paul R. From
Milwaukee, WI



Today at 10:28 AM

Brad is doing fine so far. Responsive and also asked a great question. What am I looking for in my next boat? Very good question and shows he is not just trying to push something on a buyer. Keep ...


Traci M. From
O Fallon, MO



Today at 10:17 AM

Good morning, Brad has been great so far. He's been very responsive. He's in the process of scheduling some time for us to see the boat.


Josh C.



Today at 9:46 AM

Mark, Thanks for the email. Mike is doing fine. I just haven't seen anything I really want. I think I really want a nautique 206. I would settle for a malibu if it was the right one.
View All Recent Feedback
Actually Satisfied

Hi Josh,

Thank you for following up on boat purchase. I love my new boat, the GOULDS 3, named by my granddaughter. Had some small problems that I fixed. Still learning how to run all the electronics on the boat. I've been out in the Gulf fishing several times and cruising the Intercostal with family and friends - they all love the boat. Josh, I'm sorry it took me so long to write a letter of appreciation, but this was my first experience buying something from POPYACHTS. After looking back at the whole process, it couldn't have gone any better considering everything was done over the phone or emails and the one time I flew down for the sea trial. Josh, I would like to thank you and everybody else that was involved at POPYACHT with this purchase. I wouldn't hesitate to do it all over again. Pleasant experience by Professional and Friendly Staff.

Best Regards and have a wonderful Christmas and a Prosperous New Year,

Al G (the GOULDS 3)

Albert G (Worcester, MA)
Bank-Owned & Short Sales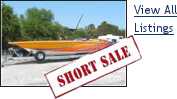 search



2005 Baha Cruisers 34 King Kat


34' Power Catamaran, White
Photos: 56
Location: Marion County, FL
Hours: 40




2004 Baha Cruisers 296 King Cat


29' 6" Power Catamaran
Photos: 253
Location: Palm Beach County, FL
Hours: 350




2002 Baha Cruisers 296 King Cat


29' 6" Walkaround, White
Photos: 35
Location: Thomas County, GA
Hours: 1,250




2004 Baha Cruisers 296 King Kat


29' 6" Power Catamaran, White
Photos: 127
Location: Plaquemines Parish, LA
Hours: 250

Your query only returned 4 listings. Get more results by entering less restrictive search criteria.