What Our Buyers Are Looking For
We don't always have what buyers are looking for. In these cases, after speaking with them, we log their criteria in our database which is always searching the new vessels we bring online.

If you have a vessel you would like to sell, please take a moment to enter a few brief details on this page and see if we have an active buyer looking for your vessel right now.

Look at Our Current Interests
Most Popular Posts
View All
Actual Feedback
Richard P. From
Saginaw, MI

Yesterday at 1:36 PM

Mark, thanks for your response and Mike did get with me very quickly. I did buy a 2000 Campion 672 Explorer in Northern Michigan and got a great deal on it. But I do appreciate you web site and h...


Al V. From
Delray Beach, FL



Yesterday at 12:27 PM

Capt. Mark, your sales exec, Jim Grady, has been doing a good and professional job to this point in the transaction. I will be sure to contact directly if there is a need.


Joey R. From
Houston, TX



Yesterday at 11:55 AM

Phil has been great. Answered all my questions promptly and thoroughly.


Tanja K. From
Cornville, AZ



Yesterday at 10:07 AM

Good morning Brad, I am pleasantly surprised with the fact you and James continue to "touch base." As a result, I hope that I am able to solicit your services when the right boat comes at the right...


Mary L. From
Denmark, SC



Yesterday at 8:42 AM

Yes he has thank you. I am currently just browsing trying to decide exactly what type craft I am looking for. I explained to Bernie that I am looking for something that could be a liveaboard for wh...
View All Recent Feedback
Actually Satisfied

My name is Chris Rochleau and I am writing to inform you of an EXTREMELY POSITIVE purchasing experience through POPyachts. I am a business owner from Council Bluffs Iowa and have purchased other vehicles in different parts of the United States. Working with salesman Phil Crowson and closing coordinator Rachel Ling Dyals could not have been a better experience. Phil answered my call day and night, week day and weekend. When he wasn't able to answer I received a prompt phone call back. I was extremely hesitant and unsure at first, but the level of professionalism displayed by Phil and Rachel brought me great comfort as the deal progressed.

As we were trying to close the deal Rachel was excellent! The boat surveyor that I had hired has turned out to be a flop and phoney - John Heald with Gulf Marine Surveyors and because of that Phil, Rachel and I had to do additional work. I had a series of phone calls with Rachel on Thursday and Friday of last week to make sure everything would go as smoothly as possible.

I couldn't say enough about my positive experience with POPyachts.

Chris R (Council Bluffs, Iowa)
Bank-Owned & Short Sales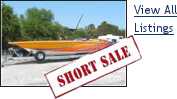 search



2005 Boston Whaler 320 Outrage


32' Center Console, Fighting Lady Yellow
Photos: 150
Location: Charleston County, SC
Hours: 560




2008 Boston Whaler 32 Outrage Cuddy


32' 2" Center Console, White
Photos: 129
Location: Palm Beach County, FL
Hours: 241




2008 Boston Whaler 320 Outrage


32' 2" Center Console, Abaco Blue
Photos: 138
Location: Nueces County, TX
Hours: 477




2006 Boston Whaler 320 Outrage


32' 2" Cuddy Cabin, White
Photos: 87
Location: Miami Dade County, FL
Hours: 842




2004 Boston Whaler 305 Conquest


30' Walkaround, White
Photos: 1
Location: Carteret County, NC
Hours: 286




2005 Boston Whaler 305 Conquest Walkaround


30' Walkaround, White
Photos: 84
Location: Miami Dade County, FL
Hours: 309




2005 Boston Whaler 305 Conquest


30' Walkaround, White
Photos: 94
Location: Monroe County, FL
Hours: 500




2003 Boston Whaler 295 Conquest


30' Walkaround
Photos: 124
Location: Ocean County, NJ
Hours: 300




2006 Boston Whaler 285 Conquest Walkaround


28' Walkaround, White
Photos: 78
Location: Atlantic County, NJ
Hours: 500




1999 Boston Whaler 30 Conquest


30' 8" Walkaround, White
Photos: 118
Location: Gloucester County, NJ
Hours: 600




1989 Boston Whaler 28 Outrage


30' 8" Walkaround
Photos: 52
Location: Martin County, FL
Hours: 430




2001 Boston Whaler 28 Conquest


30' 5" Walkaround
Photos: 193
Location: Atlantic County, NJ
Hours: 425




1989 Boston Whaler 27 Classic


31' Sportfish/Convertible, Cream
Photos: 36
Location: Waukesha County, WI
Hours: 1,100




1988 Boston Whaler 27 Vigilant Pilothouse


26' 7" Pilothouse, White / Blue
Photos: 46
Location: Hancock County, ME
Hours: 600




1989 Boston Whaler 270 Walkaround W/Cuddy Cabin


29' 1" Walkaround
Photos: 37
Location: Worcester County, MD




1987 Boston Whaler 27 FC


27' Express Cruiser
Photos: 14
Location: Harrison County, MS




1998 Boston Whaler 26 Outrage


26' Center Console
Photos: 26
Location: Barnstable County, MA
Hours: 595




1999 Boston Whaler 260 Outrage


30' Center Console
Photos: 30
Location: Suffolk County, NY
Hours: 450




2001 Boston Whaler 26 Conquest Walkaround


28' 8" Walkaround
Photos: 59
Location: Monroe County, FL
Hours: 550




1988 Boston Whaler 25 Temptation


25' Cuddy Cabin
Photos: 23
Location: Hancock County, ME
Hours: 800




1991 Boston Whaler 25 Outrage


25' Runabout
Photos: 64
Location: Orange County, CA
Hours: 600




1984 Boston Whaler 25 Outrage Cuddy


25' Cuddy Cabin
Photos: 99
Location: Palm Beach County, FL
Hours: 1,200




2002 Boston Whaler 255 Conquest


26' 11" Walkaround, White
Photos: 20
Location: Macomb County, MI




1997 Boston Whaler 24 Outrage Center Console


24' Center Console, White
Photos: 20
Location: Bucks County, PA
Hours: 49




2004 Boston Whaler 240 Outrage


24' Center Console, White
Photos: 10
Location: Sussex County, DE
Hours: 325




1997 Boston Whaler 24 Outrage


25' 6" Center Console, White
Photos: 95
Location: Jefferson Parish, LA
Hours: 700




2007 Boston Whaler 240 Outrage


23' 9" Center Console
Photos: 78
Location: Los Angeles County, CA




2006 Boston Whaler 235 Conquest


25' 2" Walkaround
Photos: 3
Location: Wakulla County, FL
Hours: 700




1984 Boston Whaler 22 Revenge


22' Cuddy Cabin, White
Photos: 129
Location: Lancaster County, VA
Hours: 250




2007 Boston Whaler 220 Dauntless Center Console


22' Center Console, White
Photos: 10
Location: Alachua County, FL
Hours: 130