What Our Buyers Are Looking For
We don't always have what buyers are looking for. In these cases, after speaking with them, we log their criteria in our database which is always searching the new vessels we bring online.

If you have a vessel you would like to sell, please take a moment to enter a few brief details on this page and see if we have an active buyer looking for your vessel right now.

Look at Our Current Interests
Most Popular Posts
View All
Actual Feedback
Greg B.

Today at 8:39 AM

Andrew always gives me a quick response to my questions. He also researches pricing before making changes to my boat selling price.


Luke B.



Today at 8:28 AM

Nicole, Bob has reached out to me and has given me some good options on vessels. I appreciate your follow up and have nothing but positive remarks for Bob and your company. My wife and kids are loo...


Aaron W. From
Mckinney, TX



Today at 7:47 AM

Yes, no problems thus far. We like your website and the number of pictures showed for each boat. That's very helpful for us since we are new to mfgs vs. features.


Robert O. From
New Orleans, LA



Yesterday at 7:33 PM

Christopher, Gregory was prompt and has been providing additional postings for my perusal. Customer service is key to a prospering company. Looks like ya'll are on top of things.


Vaughn T. From
Brownsburg, IN



Yesterday at 2:01 PM

Dean, Thomas is doing a fine job, answering my questions and giving me advice. I really appreciate his help.
View All Recent Feedback
Actually Satisfied

I have to say that POP Yachts has provided excellent service and given me a level of confidence that I will have no hesitation in providing you guys a reference down under. Outstanding service, professional, supportive and always had my interests in mind. You sourced the appropriate vessel (a Proline 31) for my budget. I look forward to seeing my new boat in the not too distant future.

Ian C. (Australia)
Bank-Owned & Short Sales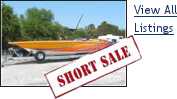 search



2005 Boston Whaler 320 Outrage


32' Center Console, Fighting Lady Yellow
Photos: 150
Location: Charleston County, SC
Hours: 560




2008 Boston Whaler 32 Outrage Cuddy


32' 2" Center Console, White
Photos: 129
Location: Palm Beach County, FL
Hours: 241




2008 Boston Whaler 320 Outrage


32' 2" Center Console, Abaco Blue
Photos: 138
Location: Nueces County, TX
Hours: 477




2006 Boston Whaler 320 Outrage


32' 2" Cuddy Cabin, White
Photos: 88
Location: Miami Dade County, FL
Hours: 842




2004 Boston Whaler 305 Conquest


30' Walkaround, White
Photos: 1
Location: Carteret County, NC
Hours: 286




2005 Boston Whaler 305 Conquest Walkaround


30' Walkaround, White
Photos: 84
Location: Miami Dade County, FL
Hours: 309




2005 Boston Whaler 305 Conquest


30' Walkaround, White
Photos: 94
Location: Monroe County, FL
Hours: 500




2003 Boston Whaler 295 Conquest


30' Walkaround
Photos: 124
Location: Ocean County, NJ
Hours: 300




2006 Boston Whaler 285 Conquest Walkaround


28' Walkaround, White
Photos: 78
Location: Atlantic County, NJ
Hours: 500




2001 Boston Whaler 28 Conquest


30' 5" Walkaround
Photos: 193
Location: Atlantic County, NJ
Hours: 425




1999 Boston Whaler 30 Conquest


30' 8" Walkaround, White
Photos: 118
Location: Gloucester County, NJ
Hours: 600




1989 Boston Whaler 27 Cuddy


30' 8" Walkaround
Photos: 54
Location: Martin County, FL
Hours: 430




1988 Boston Whaler 27 Vigilant Pilothouse


26' 7" Pilothouse, White / Blue
Photos: 46
Location: Hancock County, ME
Hours: 600




1989 Boston Whaler 27 Classic


31' Sportfish/Convertible, Cream
Photos: 36
Location: Waukesha County, WI
Hours: 1,100




1989 Boston Whaler 270 Walkaround W/Cuddy Cabin


29' 1" Walkaround
Photos: 37
Location: Worcester County, MD




1987 Boston Whaler 27 FC


27' Express Cruiser
Photos: 14
Location: Harrison County, MS




1999 Boston Whaler 260 Outrage


30' Center Console
Photos: 30
Location: Suffolk County, NY
Hours: 450




2001 Boston Whaler 26 Conquest Walkaround


28' 8" Walkaround
Photos: 59
Location: Monroe County, FL
Hours: 550




1998 Boston Whaler 26 Outrage


26' Center Console
Photos: 26
Location: Barnstable County, MA
Hours: 595




2002 Boston Whaler 255 Conquest


26' 11" Walkaround, White
Photos: 20
Location: Macomb County, MI




1991 Boston Whaler 25 Outrage


25' Runabout
Photos: 64
Location: Orange County, CA
Hours: 600




1988 Boston Whaler 25 Temptation


25' Cuddy Cabin
Photos: 23
Location: Hancock County, ME
Hours: 800




1984 Boston Whaler 25 Outrage Cuddy


25' Cuddy Cabin
Photos: 99
Location: Palm Beach County, FL
Hours: 1,200




2004 Boston Whaler 240 Outrage


24' Center Console, White
Photos: 10
Location: Sussex County, DE
Hours: 325




1997 Boston Whaler 24 Outrage


25' 6" Center Console, White
Photos: 95
Location: Jefferson Parish, LA
Hours: 700




1997 Boston Whaler 24 Outrage Center Console


24' Center Console, White
Photos: 20
Location: Bucks County, PA
Hours: 49




2007 Boston Whaler 240 Outrage


23' 9" Center Console
Photos: 78
Location: Los Angeles County, CA




2006 Boston Whaler 235 Conquest


25' 2" Walkaround
Photos: 3
Location: Wakulla County, FL
Hours: 700




2007 Boston Whaler 220 Dauntless Center Console


22' Center Console, White
Photos: 10
Location: Alachua County, FL
Hours: 130




2005 Boston Whaler 220 Dauntless


22' Center Console, White
Photos: 67
Location: Saint Lucie County, FL
Hours: 556