What Our Buyers Are Looking For
We don't always have what buyers are looking for. In these cases, after speaking with them, we log their criteria in our database which is always searching the new vessels we bring online.

If you have a vessel you would like to sell, please take a moment to enter a few brief details on this page and see if we have an active buyer looking for your vessel right now.

Look at Our Current Interests
Most Popular Posts
View All
Actual Feedback
Geoffrey N. From
Orange Beach, AL

Today at 8:35 AM

Dave and I had a great visit, and I am more than pleased to work with him.


Denise N. From
Saint Augustine, FL



Yesterday at 3:31 PM

Hi Dean - Thomas has been very helpful - I really like that there is no pressure - he knows we are looking for a boat, sends emails asking questions but I do not get any feeling that he is trying t...


Richard P. From
Saginaw, MI



Yesterday at 1:36 PM

Mark, thanks for your response and Mike did get with me very quickly. I did buy a 2000 Campion 672 Explorer in Northern Michigan and got a great deal on it. But I do appreciate you web site and h...


Al V. From
Delray Beach, FL



Yesterday at 12:27 PM

Capt. Mark, your sales exec, Jim Grady, has been doing a good and professional job to this point in the transaction. I will be sure to contact directly if there is a need.


Joey R. From
Houston, TX



Yesterday at 11:55 AM

Phil has been great. Answered all my questions promptly and thoroughly.
View All Recent Feedback
Actually Satisfied

I was a bit hesitant in working with a brokerage company as I had heard so many nightmare tales over the years. This, paired with the fact that I live in another country made me a bit skeptical about the whole situation but Kevin and his associates at POP did everything possible to set my mind at ease. They were extremely courteous, professional, and very easy to work with. After three months of searching, POP found me the perfect vessel to fit my needs and everyone there was extremely patient with me and my requirements. From the minute I sent POP my first email, Kevin made me feel as though I was his only customer and was always willing to answer any questions that I had in a timely manner. POP did all the legwork for me from finding me the right vessel, to setting up the Sea-trial/survey, to trailer fitting, shrink wrap, and lastly, shipping. I would highly recommend them to anyone (especially if you live outside of the U.S. as they do EVERYTHING for you) and will be using them again when it's time to upgrade to a larger boat. I can't say enough about the experience I had with them and look forward to working with them again in the future. Thanks again guys...my 26 XSF Scout is everything I dreamed it would be!

Dan M. (Cayman Islands)
Bank-Owned & Short Sales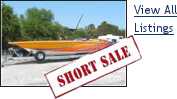 search



1997 Carver 500


50' Motoryacht, White
Photos: 90
Location: Palo Pinto County, TX
Hours: 521




2003 Carver 410 Sport Sedan


46' Motoryacht
Photos: 136
Location: Middlesex County, MA
Hours: 310




2003 Carver 466 Motoryacht


46' 11" Motoryacht, White
Photos: 14
Location: Clinton County, NY
Hours: 400




1987 Carver 4207 Cockpit Motoryacht


42' Motoryacht
Photos: 148
Location: Erie County, NY
Hours: 1,164




1989 Carver 4207


42' Motoryacht
Photos: 35
Location: Jersey County, IL
Hours: 650




1997 Carver 405 Motoryacht


42' 3" Motoryacht, White
Photos: 193
Location: Denton County, TX
Hours: 212




1988 Carver 4207 Aft Cabin


42' Aft Cabin, White
Photos: 19
Location: Lyon County, KY
Hours: 1,600




2000 Carver 396


40' 7" Motoryacht
Photos: 70
Location: San Diego County, CA
Hours: 220




1998 Carver 405 Aft Cabin


40' 3" Motoryacht
Photos: 28
Location: Ocean County, NJ




1986 Carver 360 Mariner


40' Motoryacht, White
Photos: 76
Location: Lake County, IL
Hours: 385




1997 Carver 405 Aft Cabin


42' 3" Aft Cabin
Photos: 71
Location: District Of Columbia County, DC
Hours: 167




1999 Carver 404 Cockpit Motoryacht


43' 6" Motoryacht
Photos: 193
Location: Erie County, NY
Hours: 1,100




1995 Carver 39 Cockpit Motoryacht


41' Motoryacht, White
Photos: 95
Location: Saint Johns County, FL
Hours: 278




1991 Carver 38 Aft Cabin


42' 6" Motoryacht, White
Photos: 27
Location: Atlantic County, NJ
Hours: 1,156




1990 Carver 538 Montego


38' 5" Express Cruiser, White With Blue Accents
Photos: 27
Location: Kootenai County, ID
Hours: 1,100
Heading to Regina, Canada!




1990 Carver 3867 Santego


44' 11" Motoryacht
Photos: 16
Location: Ulster County, NY
Hours: 750




1996 Carver 370 Voyager


37' Motoryacht, White
Photos: 85
Location: Portland, OR
Hours: 694




1995 Carver 370 Voyager Pilothouse


40' Motoryacht
Photos: 27
Location: Brevard County, FL
Hours: 101




1998 Carver 350 Mariner


36' 3" Express Cruiser
Photos: 1
Location: Cook County, IL




1982 Carver 376


35' 7" Aft Cabin
Photos: 80
Location: Hillsborough County, FL
Hours: 30




1994 Carver 37 Voyager


37' 1" Motoryacht, White
Photos: 24
Location: Multnomah County, OR




1988 Carver 36 Aft Cabin


36' Aft Cabin
Photos: 190
Location: Broward County, FL
Hours: 1,000




1987 Carver 36 Mariner


36' Motoryacht
Photos: 64
Location: Baltimore County, MD
Hours: 1,355




1988 Carver 3607 Aft Cabin


36' Aft Cabin, Cream/maroon
Photos: 46
Location: Brunswick County, NC
Hours: 826




2003 Carver 366 Motor Yacht


36' 9" Motoryacht, White
Photos: 91
Location: Baltimore City County, MD
Hours: 171




2003 Carver 360SS


37' 8" Motoryacht
Photos: 38
Location: Westchester County, NY
Hours: 524




1982 Carver 36 Carver


36' Aft Cabin, White
Photos: 169
Location: Charles City County, VA
Hours: 1,180




1998 Carver 35 Mariner


36' 7" Motoryacht, White
Photos: 82
Location: Sarasota County, FL
Hours: 750




1997 Carver 350 Mariner


35' Motoryacht, White
Photos: 39
Location: New Haven County, CT
Hours: 425




1999 Carver 350 Mariner


36' 4" Express Cruiser
Photos: 56
Location: Macomb County, MI