What Our Buyers Are Looking For
We don't always have what buyers are looking for. In these cases, after speaking with them, we log their criteria in our database which is always searching the new vessels we bring online.

If you have a vessel you would like to sell, please take a moment to enter a few brief details on this page and see if we have an active buyer looking for your vessel right now.

Look at Our Current Interests
Most Popular Posts
View All
Actual Feedback
Carl I. From
Reading, MA

Today at 8:13 AM

Hello Marino. Yes...Chris is great. I just haven't found the right boat for me. It is my first one that will be kept at the condo that I am closing on in Ft. Lauderdale .


Gustavo A.



Today at 7:11 AM

April has been great. Responded to my request, followed up with a phone call and corresponded with e-mail. will stay in touch


John G. From
Seattle, WA



Today at 2:49 AM

I have been very impressed so far. A closed deal will make it even better.


Troy T. From
Perth, Australia



Yesterday at 10:22 PM

Thanks Kevin for your email, Being looked after well by Scott mate, no problems thus far. I am motivated to buy a boat and have sent over to Aus and theres a few on y...


Bernie S.



Yesterday at 9:57 PM

Hi Bruce, So far my experience has been quite good. Nicole is prompt in returning my messages and I'm happy with the level of customer service I've received so far.
View All Recent Feedback
Actually Satisfied

I had originally attempted to sell my boat via Craigslist, but most of the "interested buyers" who contacted me were more interested in a joyride than a purchase. POP Yachts took the headaches out of advertising and selling my boat.

Also, I had peace-of-mind during the closing because the legal documents provided by POP Yachts protect all parties during and after the sale.

Nisha and Ashley were proactive and thorough, and a pleasure to work with!

Steve S. (Venice, FL)
Bank-Owned & Short Sales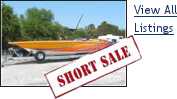 search



2008 Champion 22 Bay


22' Bay Boat, Red, White, Black
Photos: 83
Location: Tangipahoa County, LA




2003 Champion 203


20' 3" Bass Boat
Photos: 23
Location: Coweta County, GA
Hours: 85




2006 Champion 188 Elite


18' Bass Boat
Photos: 21
Location: Morgan County, MO




2004 Champion 188 SCX Elite


18' 8" Bass Boat, White / Blue
Photos: 34
Location: Clark County, NV
Hours: 350

Your query only returned 4 listings. Get more results by entering less restrictive search criteria.