What Our Buyers Are Looking For
We don't always have what buyers are looking for. In these cases, after speaking with them, we log their criteria in our database which is always searching the new vessels we bring online.

If you have a vessel you would like to sell, please take a moment to enter a few brief details on this page and see if we have an active buyer looking for your vessel right now.

Look at Our Current Interests
Most Popular Posts
View All
Actual Feedback
Geoffrey N. From
Orange Beach, AL

Today at 8:35 AM

Dave and I had a great visit, and I am more than pleased to work with him.


Denise N. From
Saint Augustine, FL



Yesterday at 3:31 PM

Hi Dean - Thomas has been very helpful - I really like that there is no pressure - he knows we are looking for a boat, sends emails asking questions but I do not get any feeling that he is trying t...


Richard P. From
Saginaw, MI



Yesterday at 1:36 PM

Mark, thanks for your response and Mike did get with me very quickly. I did buy a 2000 Campion 672 Explorer in Northern Michigan and got a great deal on it. But I do appreciate you web site and h...


Al V. From
Delray Beach, FL



Yesterday at 12:27 PM

Capt. Mark, your sales exec, Jim Grady, has been doing a good and professional job to this point in the transaction. I will be sure to contact directly if there is a need.


Joey R. From
Houston, TX



Yesterday at 11:55 AM

Phil has been great. Answered all my questions promptly and thoroughly.
View All Recent Feedback
Actually Satisfied

Good Afternoon! My wife and I recently purchased a 2000 26 ft. Montery 262.

Our original contact was with Brad Butcher who was extremely professional, highly accessible and a great liaison with the buyer. Our sales experience was nothing short of fantastic!

Monica Ischinger handled our closing and could not have been more professional and helpful. Monica was extremely pleasant to work with and went to great lengths to make the close as uneventful and timely as possible, to include intervening with a rude and uncooperative marina during the pick-up.

My wife and I are particularly grateful to Rachel Ling Dyals for her monumental effort in resolving a very difficult situation.

Our title paperwork was sent via FedEx to our office, acknowledged as delivered, but was nowhere to be found.

FedEx was not helpful and the challenge was to replace the title.

This is where Rachel demonstrated her superstar abilities!

To compress the story, Rachel had to deal with every possible uncooperative scenario imaginable to include the former owner, the State of New York, the original loan bank, etc. to replace the title.

Only through her creativity and resourcefulness did she reach out to the Director of the Maryland DNR Licensing Office to request a waiver (see below) who was kind enough to grant one, while also contacting our bank to update them on the situation.

Bottom line, Rachel is one in a million and saved the day for us!

Thanks again to your team for making our experience with POP Yachts International an absolute delight.

We look forward to referring your company to all who will listen!

Jeff and Lorraine W. (Lake Shore, Maryland)
Bank-Owned & Short Sales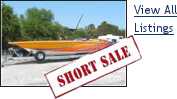 search
Your query only returned 2 listings. Get more results by entering less restrictive search criteria.