What Our Buyers Are Looking For
We don't always have what buyers are looking for. In these cases, after speaking with them, we log their criteria in our database which is always searching the new vessels we bring online.

If you have a vessel you would like to sell, please take a moment to enter a few brief details on this page and see if we have an active buyer looking for your vessel right now.

Look at Our Current Interests
Most Popular Posts
View All
Actual Feedback
Dan D.

Yesterday at 7:23 PM

Captain Mark,Thanks for asking. Christopher was quick to reply and sent a few ideas. I am being very particular with what I am looking for and am quite confident that CHristopher will come through ...


Jeffrey Wayne L. From
Pensacola, FL



Yesterday at 5:22 PM

I met with Dave today and he gathered all the necessary information that he needed. He was polite and professional.Thank you for the help,


Charles and Carole E. From
Minneapolis, MN



Yesterday at 3:12 PM

We are extremely satisfied with your company and would recommend it to any of our friends. Everyone that we have dealt with have been very professional and helpful. Thank you and best of luck grow...


Naief D.



Yesterday at 2:52 PM

Dear Mr Brad I am very comfortable dealing with James . I having very good service. And every thing is clear to me.


Dave M. From
Palm Bay, FL



Yesterday at 12:31 PM

Mark, Yes. Marino is taking VERY good care of me. He knows what I am looking for and is consistent in sending me only those options within my stated guidelines. As I told Marino, I will be purchasi...
View All Recent Feedback
Actually Satisfied

I initially started researching importing a boat from the US for 6 months prior to contacting Pop Yachts. Although this was beneficial, it could not replace the professional research and advice provided to me from Popyachts. Kevin and Scott know the market very well and what is available. The 2601 Striper was presented to me exactly as described and I would not have this type of boat sitting on my pontoon now if it wasn't for these guys.

From the time I first made contact through to the contract offer and acceptance, preparation for shipment, survey and finally shipping, they were a pleasure to deal with. Kevin and Scott always answered my emails promptly and were always professional and helpful but never pushy. Living in Australia, I bought this boat sight unseen, which I would never have considered had it not been for the comprehensive service offered by Pop Yachts.

I am really enjoying the experience of running a boat such as this however, I would have found it difficult to financially justify the same had I bought it locally.

I definitely intend to be a repeat customer, thanks guys.

Bryce H. (Woodridge, Australia)
Bank-Owned & Short Sales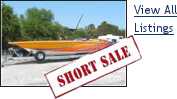 search



1987 Ocean Alexander 71 Cockpit Motoryacht


71' Motoryacht, White
Photos: 136
Location: Virginia Beach City County, VA
Hours: 500




1985 Hatteras 53


53' 10" Motoryacht
Photos: 13
Location: Virginia Beach City County, VA
Hours: 3,000




2006 Nor-Tech 50 Super Cat


50' High Performance
Photos: 20
Location: Roanoke City County, VA
Hours: 0




1993 Hyatt 49 Motoryacht


53' Motoryacht, White
Photos: 200
Location: Portsmouth City County, VA




1999 Fountain 47 Lightning


47' 2" High Performance, White
Photos: 148
Location: Fairfax County, VA
Hours: 245




1990 Dead Rise 47


47' Other
Photos: 142
Location: Norfolk City County, VA




1976 Tiffany Yachts 46 Trawler


46' 7" Trawler, White
Photos: 23
Location: Northumberland County, VA
Hours: 4,800




1989 Sea Ray 460 Express Cruiser


45' 6" Express Cruiser, White
Photos: 272
Location: Portsmouth City County, VA
Hours: 2,100




1981 Marine Trader 44 Dual Cabin Diesel


43' 2" Trawler, White
Photos: 22
Location: Gloucester County, VA
Hours: 650




2000 Fountain 42 lightning


42' High Performance
Photos: 12
Location: On a lift in Hampton City County, VA




2004 Provincial 42 Extended Cabin


42' Trawler, White
Photos: 186
Location: Northumberland County, VA
Hours: 427




1983 Defever 41 Classic


40' 7" Trawler
Photos: 231
Location: Chesapeake City County, VA




1987 Sea Ray 41 Aft Cabin


41' Aft Cabin, White/green
Photos: 181
Location: Hampton City County, VA
Hours: 1,500




1987 Morgan 41 Morgan/Catalina Classic MKII


41' Sloop
Photos: 19
Location: Norfolk City County, VA
Hours: 500




1986 President 41


41' Motoryacht, White
Photos: 245
Location: Hopewell City County, VA
Hours: 587




2003 Regal 3860 Sport Cruiser


40' 1" Express Cruiser, Blue/white
Photos: 148
Location: Hampton City County, VA
Hours: 500




1973 Cheoy Lee 40 Long Range Cruiser


39' 8" Trawler
Photos: 9
Location: Chesapeake City County, VA




1991 Sonic 38SS


38' High Performance, White W/custom Graphic
Photos: 20
Location: Satfford County Va.
Hours: 900




1941 Matthews 38 Cabin Cruiser


38' 10" Antique and Classic, White, Blue, Red
Photos: 163
Location: Portsmouth City County, VA
Hours: 255




2004 Cruisers 370 Express


40' Express Cruiser, White
Photos: 54
Location: Virginia Beach City County, VA
Hours: 237




2007 Active Thunder 37 Excess


36' 10" High Performance, Orange
Photos: 12
Location: New Kent County, VA
Hours: 280




1990 Gibson 36 Houseboat


36' Houseboat, Red And White
Photos: 166
Location: New Kent County, VA
Hours: 450




1982 Carver 36 Carver


36' Aft Cabin, White
Photos: 169
Location: Charles City County, VA
Hours: 1,180




2003 Catalina 350 Cruiser


35' 10" Cruiser, White
Photos: 249
Location: Middlesex County, VA
Hours: 2,240




1986 Trojan 35 International


35' 4" Sportfish/Convertible, White
Photos: 242
Location: Middlesex County, VA
Hours: 1,300




2004 Donzi 35 CC


Center Console, Black/white
Photos: 36
Location: Virginia Beach City County, VA
Hours: 447




2005 Mainship 34


34' Pilothouse, White
Photos: 118
Location: Prince William County, VA
Hours: 752




2004 Cruisers 340 Express


34' Express Cruiser, Blue
Photos: 96
Location: Isle Of Wight County, VA
Hours: 400




1989 Sea Ray 340 Sundancer


34' Express Cruiser, White
Photos: 184
Location: Middlesex County, VA
Hours: 300




1991 Silverton 34


34' 4" Sportfish/Convertible
Photos: 138
Location: Stafford County, VA
Hours: 381