Sunny Handa
Title: Licensed Regional Sales Manager
Hometown: Melbourne, Florida (via Fairfax, VA)
Phone Number: (321) 626-8850
Fax Number: (321) 821-0204
Skype: sunnyhanda_florida
Florida DBPR License #: 6897
Send Me a Message
If you would like to send Sunny a message, you can use the online form below. Alternatively, if you prefer to speak with Sunny right away, please dial Sunny's direct phone number above.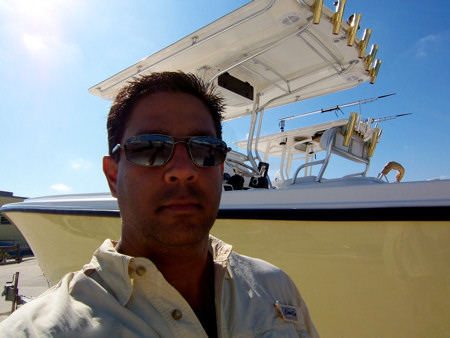 I grew up in the Washington, DC area (Fairfax, VA) and am still a lifelong, but troubled Washington Redskins fan. But the cold and my love for the water brought me to college at Florida Tech in Melbourne, which is where I met Scott McNally.

I love the water and boats of all kinds. Whether I'm just cruising around the Intracoastal Waterway on a pontoon boat, fishing the flats for Redfish in Mosquito Lagoon, offshore in the Keys fishing for dolphin and wahoo on a Contender or taking a luxury cruise to the Bahamas on a 61 Altima Yacht. I just love boating and being on the water. So, after being a CPA and a corporate finance guy for over 15 years, I decided to give the yacht brokerage business a shot in 2008.

There's nothing like working with people in the boat buying and selling process. Especially gaining the trust of someone overseas that will never see his pride and joy purchase until she arrives in his home port. Reading their testimonials learning of their joy is extremely rewarding. It's an emotional process on both sides. You know what they say: "The happiest days of boat ownership are they day you buy your boat and the day you finally sell it." Nothing could be more true!
Recent Awards
Top 10 Salesperson (September 2012)
Top 10 Salesperson (May 2012)
Top 10 Salesperson (April 2012)
Top 10 Salesperson (March 2012)
#1 Salesperson (February 2012)
Top 10 Salesperson (February 2012)



Recently Sold
2004 Glasstream 273 SCX in King George County, VA, sold on May 16.
2005 Bayliner 242 EC in Maricopa County, AZ, sold on May 15.
2002 Pro Sports 25.5 Pro Sports in Norfolk County, MA, sold on May 14.
1993 Mediterranean 38 in Kilmarnock, VA, sold on May 14.
2004 Correct Craft 211 SV Air Nautique Team Edition in Livingston County, MI, sold on May 10.
2004 Polar 2100 Center Console in Carteret County, NC, sold on May 7.
1989 Luhrs 400 Tournament Sportfish in Miami Dade County, FL, sold on May 7.
2005 Catalina 320 Sailboat in Los Angeles County, CA, sold on Apr 29.
2011 Catalina 250 MKII Wing Keel in Brevard County, FL, sold on Apr 29.
1999 Parker 2300 Deep Vee in Wake County, NC, sold on Apr 26.



Recommendations
Scott, Your brokers have been more than helpful and knowledgable about my proposed vessel. I am hoping to get there by the weekend to view in person. Again. Thank you for the help and hope to do business soon. Respectfully, Gentry Wesner(239) 404-7792 On Jan 31, 2013, at 7:46 PM, "Scott McNally"

Gentry W. from Naples, FL, posted on FEB 1


Please Sign Up or Log In first. Register